Blog No. 163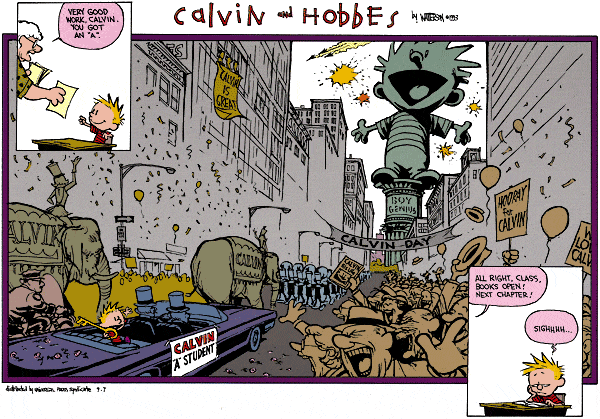 I did it! I didn't think I would, but I did! For all of 2015, another whole year, I put up a blog post every week. That's three years running now with only one flub (back in 2013 I missed a Thursday and the post went up on the Saturday). I've gotta say, I'm pretty impressed with myself. It's not a feat that everyone achieves. Not everyone wants to achieve such a dream, but some do, and I did.
Going forward, there are a lot of things that are up in the air (this blog included). As I finish more projects (like No Light Tomorrow, a no nonsense SciFi collection available this Saturday) the need for a weekly blog diminishes and the necessity of a more encompassing website grows. That doesn't mean I won't be continuing the blog, but everything is always in flux, as it should be. I've mentioned before that there will come a day when the weekly format doesn't work for me. It could come down to not having the time, or just being tired and lazy, but I doubt I'll ever stop completely. It's become a habit now, engrained into my weekly routine. It pops up regularly to keep me on my toes, make me think of new things to write about, dread over not having anything to write about. You get the picture.
Last year is over and this year is just starting. Nothing has changed but our perspectives. It's new, fresh and exciting because we say so. What better time to reign yourself in and rededicate yourself to your passions. I've been lucky in not missing a Thursday. It's been dedication and work, but it easily could have stopped. So now is the time to apply the same kind of attitude to writing of all kinds, and being more active, and eating better, and so on. I've said it before, I don't believe in New Year resolutions, but what better time to reflect and make the changes you've been working on (or planning to work on) during the busy holidays? Any time the thought comes to you to make the change, you should do it, be it the New Year or a random Thursday. That's a lesson by brother taught me and I take it to heart every time I'm not too lazy (or too into a show on Netflix) to bother.
The big difference between this year and last is that I have a book now. It seems so insignificant at times. Anyone could have done what I did, but they didn't (or they have, I'm not their boss) and I did. It took a lot of work and determination (even if it's a year overdue). With luck and perseverance, it'll be the first of many. I've already got plans to put another one out by the summer.
Look for this page to change a bit to accommodate the book and announcements surrounding the book. (I may even get back into doing updates on the things I'm working on). Also look for the book. No Light Tomorrow is coming out on Saturday with a book launch at Phog. Then it will be available at book stores around the city, as well as online and directly from wither Christian or myself. We have readings and convention tables scheduled, and those announcements will show up here as well. Because of all that, there will be things going up other than on Thursdays, but for now, these Thursday posts will still go up as normal.
Thanks for all the support last year and the support I'm sure to get this year too. I'd love to get more feedback, and if you think there's a place for my book somewhere where you live (or work or whatever) let me know!